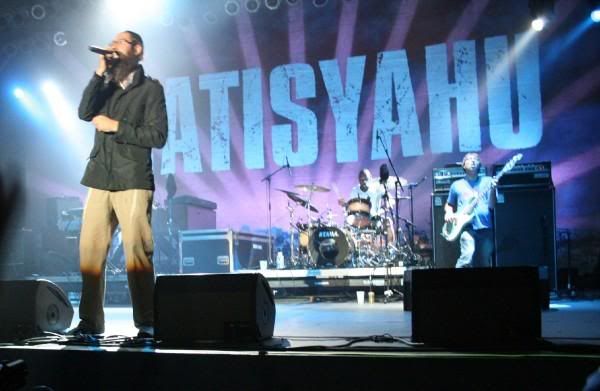 How do I even start this.
Tonight was equal to last night, in a whole different way.
Me and Gabriel went to see Matisyahu live in Milwaukee.
We got there 2 hours before it started and weaseled our
way into the very front very middle. This was a good start
to a great night. We had 2 big bored guys in front of us that
eventually left and we upgraded to the very front railing just
meters from the man himself. We had underage drunk girls all around
us and one thought it neccesary to rub her boobies and vaj all over
gabriel then later the same to me. everyone was making out so she
tried that shit on me but like a boss i gave the the ole face mask
and push away. boss status.
then we had some drunk guy weasel in and then cry about how his gf was out
somewhere in the crowd cheating on him to every person around he was real annoying.
i told him to get the eff over it because matis will make it all better.
then a rabbi and his son weaseled their way in. that was cool tho because his
son kept it so hood and he helped amp everyone around him.
at some point a girl threw up on our feet.
at some point some chemical was sprayed and I almost threw up.
at some point I wondered why I had wore flip flops to a concerto.
it was bad. the show was the best.
matisyahu did some new stuff and all the old classics... like jerusalem
it was his birthday so we all sang happy birthday to him.
and thats when SHIT WENT DOWN.
after being backstage yesterday i saw how the security was so intense
well...
somehow matis convinced them to let on like 15 people onto the stage.
once they were there he yells "i want everyone on the stage"
so me and gabriel jumped up and with like 70 other people
started dancing with matisyahu!!!!!
bouncers went ape! it was nuts it turned into a crazed riot
and all kind people were getting the crap kicked out of them by the bouncers
it was total chaos. total.
so once the song was over we went backstage with him and thats the time that
gabriel and I got split up.
we both got to be by him for prolly only a few moments
but in that time gabriel got some shots... one of matis smoking a cigarette
which we wont show out of respect for his image then gabriel got pulled out
by a big ass bouncer.
then came the best part as i was being escorted out matis tosses me his yamaka.
and someone gave him a packers hat which he wore backwards for the rest of the night.
the strange thing was that on the inside of the yamaka it has someone elses name
so i have no clue where he got it...
he had a major hard him keeping things on his head for some reason
he has a couple different yamakas on and toward the beginning of the show
he wore a badgers hat backwards.
[packershat]
i forgot to mention that i think the lead singer of my new favorite band the polyphonic
spree was up on the VIP deck that was also very trill trill.
so once all of the hoods were yanked off of the stage we had one more
song with about 10x the security guards. what can i say? it was a good night.
again like last night it was jsut one of those things that you can never live
again...
and words will never describe.
weed smoke was also in abundance... even on the bus ride back.
our african american bus driver even had to make a "no weed smoking" announcement.